---
---
Attendant on call 11am - 10pm
​
319-866-9359
---
Super Marion, a New Arcade in Marion, IA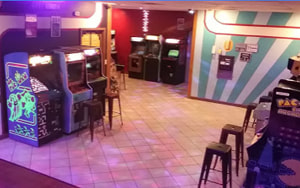 Super Marion Arcade, is Marion, Iowa's new, dedicated arcade. Being a dedicated arcade means that the quality of our games and the enjoyment of our arcade community comes first, as they are our primary focus. We use the knowledge of the past thirty plus years of gaming to track down only the best, most memorable games. If the game is not in like new condition, we restore them to their former glory before putting them on our arcade floor. ​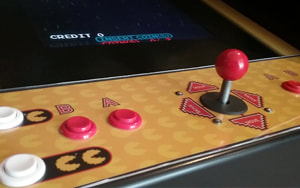 This means clicky, perfectly working buttons and joysticks, sharp and bright monitors, restored artwork, including the often neglected art on the side of the cabinets, and loud speakers, turned up, so that players can hear the sound effects and music from the game they are playing. We strive to give the player the ideal experience with near museum-quality machines.
​​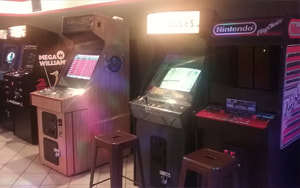 ---
High Quality Arcade Machines Doesn't Mean High Prices
At Super Marion Arcade, our games run on quarters.
We have a
change machine
inside the arcade that will give quarters for up to ten dollar bills. Also, Marion Laundromat is conveniently located next door, with a change machine that accepts up to twenty dollar bills.
We have many games that are their original price of 25¢, including such timeless, iconic classics as
Donkey Kong
and
Frogger.
Some of our other games are priced at 50¢ to start, such as
Marvel VS Capcom 2: New Age of Heroes
and
Altered Beast,
and then only a quarter to continue.
Arcade games were designed to be played in short intervals or long stretches, depending on the player. Super Marion Arcade is designed so that if someone wants to stop in and spend a couple dollars, playing some awesome games from the past, they can. Also welcome is the more experienced player, who wants to come in and enjoy all the different games for several hours.
So, whether you want to defend your high score on your favorite game or play until you see the end credits, you are welcome at Super Marion Arcade!! ​​
---
Better than the Arcades You Remember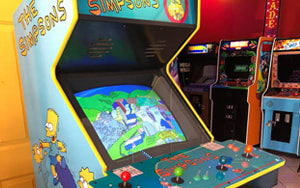 At Super Marion Arcade we aren't simply mimicking the social gaming arcades of the eighties and nineties. We want an arcade that is better than what you remember. This starts with the quality and selection of our games. We don't fill our space with the easiest to find machines, but pick only the best, whether we find them locally or have them shipped from across the nation. Our guiding principle is to have "games that are fun to play".
​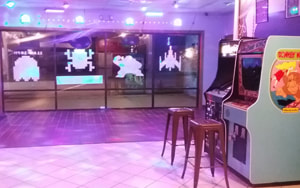 While you play, we have stools available to relax on. They are also great for helping the youngest players to reach the controls and see the screen. Arcades used to be dark places, only lit by the glow of the machines and black lights, but while we have kept the black lights towards our entrance, we have added spot lighting, aimed away from the screens, to keep the arcade bright enough that the art of the cabinets can be appreciated, without creating glare on the game screens. These little touches and more, create an arcade experience better than the arcades you remember. ​
---
The Ultimate Collection of Arcade Machines
Every time you play at Super Marion Arcade, you are part of our arcade community!! You are not only helping to maintain the great games that we have, but are also helping to bring new machines into the arcade. Together, we will bring the ultimate collection of arcade games to Marion, Cedar Rapids, Hiawatha, and the surrounding area. A place to enjoy the games of our past, as well as a place to make new memories with new players. Thank you for your support!!
​
---
Mexican Food, 24 Hour Laundromat, and Comic Books
Super Marion Arcade is located next to
Villa's Patio Mexican Restaurant
, making it easy to fill up on delicious, local, Mexican food before or after you take on your favorite games.
We are also next to
Marion Laundromat
, providing a perfect way to pass the time, while even your largest loads of laundry get clean.
​We are also three doors over from
Alter Ego Comics & More
, a great place to pick up the newest issues of your favorite comics and collectibles.
---
---
SUPER MARION ARCADE
371 7TH AVE
MARION, IA 52302
​ 319-866-9359